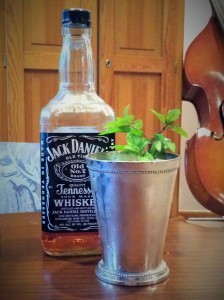 While traditionalists might insist on Kentucky Bourbon some smooth Tennessee Whiskey makes a mighty fine drink!
2 Sprigs of Mint Leaves
2 oz Bourbon or Tennessee Whiskey
2 Tbsp Simple Syrup

Powdered Sugar
Crushed Ice
In the bottom of a julep glass or a rocks glass add 2 Tbsp Simple Syrup. Muddle(smash) one Sprig of Mint with a muddler or the back of a spoon in the Syrup. Fill the glass with crushed ice. Top with Whiskey and stir. Lightly dust the top with Powdered Sugar and add the final Sprig of Mint as garnish. Enjoy!
Simple Syrup is really simple. Just put 1 cup of sugar and 1 cup of water in a small saucepan and bring to a boil. Turn down to a simmer for a few minutes to dissolve all the sugar. Store in a tightly closed glass jar in the refrigerator for up to 4 weeks.
Be sure to like and/or share this post to continue to keep my Cocktail of the Week in your newsfeed.