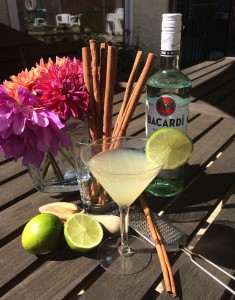 A sweet and spicy twist on this classic cocktail will kick off your party with zing!
2 oz White Rum
1 oz Fresh squeezed Lime Juice
1 heaping teaspoon of Honey
1/2 oz Hot Water
Ground Cinnamon
Mix the Honey and Hot Water in the bottom of a shaker. Stir in the Rum to the Honey and Water and continue to stir until the honey is dissolved. Add ice and Lime Juice cover and shake very well. Pour into a chilled glass. Grate some cinnamon over the top of the glass or carefully sprinkle a small amount of ground cinnamon on the top. Garnish with a lime wheel or slice. Enjoy!
Remember to Like, Comment or Share my Cocktail of the Week to keep them coming in your newsfeed.