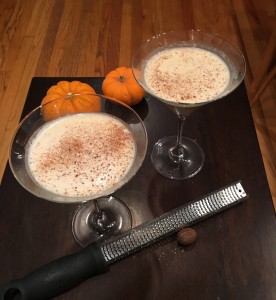 Seems like there is always some pumpkin puree left over when making pies. Here's a great recipe that will use up that leftover puree, in fact you may need to make some extra!
4oz Vodka
2oz Heavy Cream (you can substitute light cream or half and half)…
2 Tablespoons Pumpkin Puree
1 Tablespoon Maple Syrup
1/4 teaspoon Vanilla Extract
Ground Cinnamon
Ground Nutmeg
(Makes 2)
Fill a cocktail shaker with ice and add Vodka, Cream, Pumpkin Puree, Maple Syrup and Vanilla Extract. Cover and shake well. Strain as you pour into two chilled martini glasses. Sprinkle the tops with Ground Cinnamon and Ground Nutmeg. Also tasty served on the rocks.
Remember to Like my page https://www.facebook.com/LiHalpernEvents, Comment on or Share my Cocktail of the Week to keep the Cocktail of the Week coming to your newsfeed.