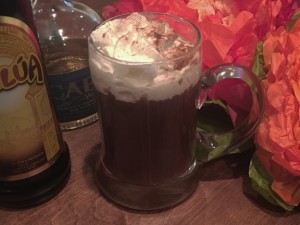 Winter weather has finally arrived in Philadelphia and it is time to pour my favorite hot drink – Mexican Coffee. If you have any weighty new year's resolutions, I just read an article today that says tequila can help you to lose weight — just don't ask about the other ingredients. Salud!
1oz Tequila – my favorite is Cabo Wabo Reposado
1oz Kahlua
Hot Coffee
Whipped Cream
Ground Cinnamon or Chili Powder
Pour Tequila and Kahlua into a large mug and fill with hot coffee. Top your drink with whipped cream. Sprinkle with Cinnamon or Chili Powder. Yes, I am drinking the Mexican Coffee in the photo now…and it is delicioso.
Remember to Like my page https://www.facebook.com/LiHalpernEvents, Comment on or Share my Cocktail of the Week to keep the Cocktail of the Week coming to your newsfeed.