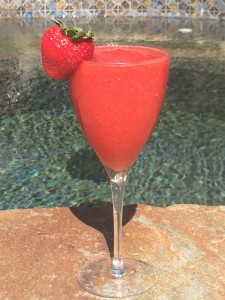 For this cocktail cooler use ripe, fresh Strawberries for a pure taste of summer!
2 cups frozen Strawberries
¼ cup Rose's Lime juice

¼ cup Lemonade
2 oz Lemon Flavored Vodka
1/4 oz Grand Marnier or another Orange Flavored Liquor

Clean and hull fresh strawberries at least a day in advance. Place the strawberries in a single layer on cookie sheet and put into the freezer until frozen. Once frozen, transfer the fruit to a freezer container or storage bag. Can't wait? Pick up a bag or two of frozen strawberries at your local grocery store.

Put all of the ingredients in a blender and puree. Pour into tall glasses, garnish with Strawberry and enjoy!