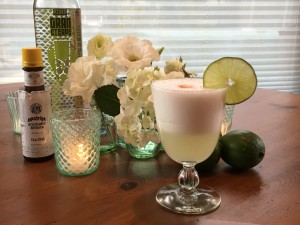 Cocktail of the Week: Pisco Sour
An unseasonably warm weekend deserves a drink reminiscent of good weather and great times. This delicious cocktail is adapted from a recipe shared by my Peruvian sister-in-law Yani. You won't be disappointed – her side of the family knows how to make a tasty celebration!
3 ounces of Pisco
2 ounces Fresh Lime Juice
1 tablespoon Egg White (approximately one white of an extra large egg)
1 1/2 ounces Simple Syrup*
1/4 cup Ice
2 drops Angostura Bitters
Lime wheels for garnish
In a blender, combine Lime Juice with the Egg White and blend until lightly frothy. Add Simple Syrup, Pisco, and Ice and blend at high speed until ice is crushed and the drink is fully frothy.
Pour into a glass, top with drops of Angostura Bitters, Garnish with a Lime wheel – enjoy!
*Simple Syrup is really simple. Just put 1 cup of sugar and 1 cup of water in a small saucepan and bring to a boil. Turn down to a simmer for a few minutes to dissolve all the sugar. Store in a tightly closed glass jar in the refrigerator for up to 4 weeks.
Remember to Like my page https://www.facebook.com/LiHalpernEvents, Comment on or Share my Cocktail of the Week to keep the Cocktail of the Week coming to your newsfeed.