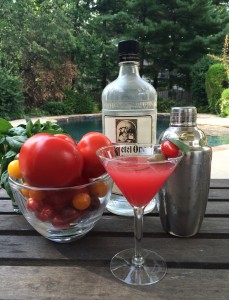 Cocktail of the Week: Tomato Martini
It's that time of summer when fresh, ripe tomatoes are everywhere. Mix up a little tomato vodka and enjoy sipping the fresh flavors of summer!
1 lb ripe tomatoes – one big beefsteak may be enough!
8 oz of your favorite Vodka
½ oz of Dry Vermouth
1 tsp Red Wine Vinegar
Pinch of Salt
Cherry Tomato, Basil and Olives for garnish
Makes 4
Cut the Tomato into quarters and place into a blender or food processor. Pulse a few times. Add Vodka and blend to a fine puree.
Strain the puree into a bowl or pitcher using a fine mesh strainer. Add Dry Vermouth, Red Wine Vinegar and a pinch of Salt. Pour into a shaker with ice – shake and pour into chilled glasses.
Garnish with Cherry Tomatoes, Basil and Olives. Enjoy!
Remember to Like my page https://www.facebook.com/LiHalpernEvents, Comment or Share my Cocktail of the Week to keep my Cocktail of the Week coming to your newsfeed.