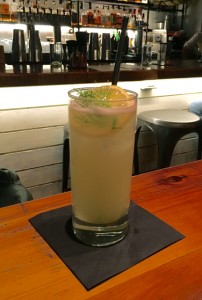 Cocktail of the Week: Licensed to Dill
This week's recipe is from Daniel Carr, bar manager at The Fat Ham. Featuring Dill Infused Gin with just a touch of sweetness, this cocktail is a refreshing southern sip.1 1/2oz Dill Infused Gin*
1oz Cucumber Water
…

3/4oz Fresh Lemon Juice
1/4oz Yellow Chartreuse
1/4oz Agave Syrup
Club Soda
Lemon Slices and Fresh Dill for garnish
Add Gin, Cucumber Water, Lemon Juice, Chartreuse and Agave Syrup to an ice filled shaker. Shake then strain as you pour over ice in a tall glass. Top with Club Soda. Garnish with a Lemon Slice and Dill.*Daniel uses 1 quart of loose packed dill per 1.75L of gin and flavors it in a vacuum packed bag for two days. In a jar he recommends pickling the gin with the dill for 5 – 7 days. If you can't wait that long, I suggest you head over to The Fat Ham and have Daniel mix up one of his special cocktails.
https://www.sbragadining.com/fatham/
Remember to Like my page https://www.facebook.com/LiHalpernEvents, Comment on or Share my Cocktail of the Week to keep the Cocktail of the Week coming to your newsfeed.